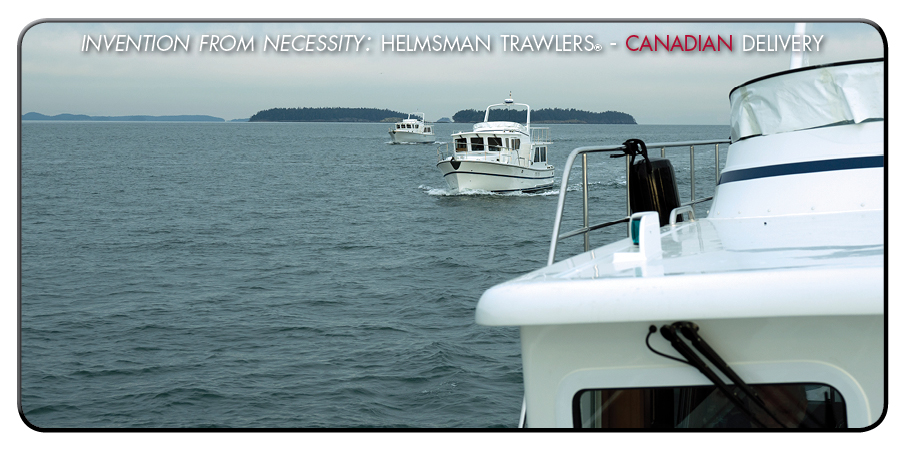 In service to its customers, Helmsman Trawlers'® recent boat delivery was a series of firsts: first offload in Canada, first multiple-boat offload, and first cross-border underway prior to full commissioning. But with a lot of effort on planning, logistics, and contingency preparations the Helmsman Trawlers® team's triple threat of:
1) Mastery of the offload process, with special attention to customer service,
2) Expertise in boat handling and shipboard systems, and
3) Well-built boats that are seaworthy from the get-go,
…the offload and transport were a success. The vessels are now having electronics installed and other commissioning items performed in Seattle before being delivered to their Canadian customers.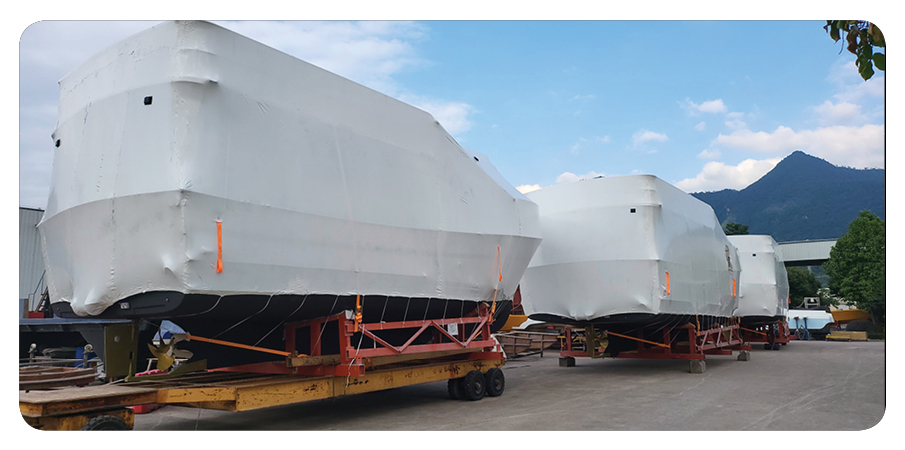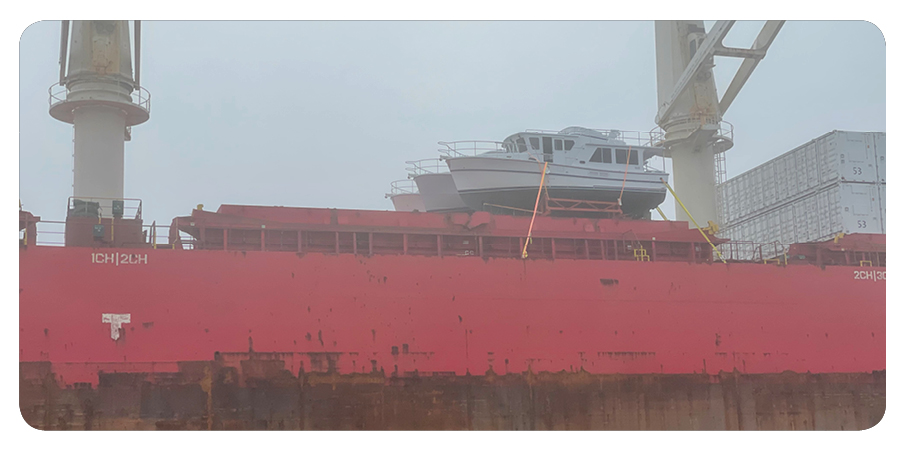 Offload in Surrey, British Columbia
With worldwide shipping in continued overload, Helmsman Trawlers® was unable to obtain direct transport to Seattle without delaying their deliveries. Out of necessity and in close cooperation with the Helmsman Trawlers® yard, special arrangements were made to bundle three boats (one 38E and two 43Es) aboard a chartered ship in China, with subsequent loading aboard a cargo carrier with shipment direct to Surrey, BC.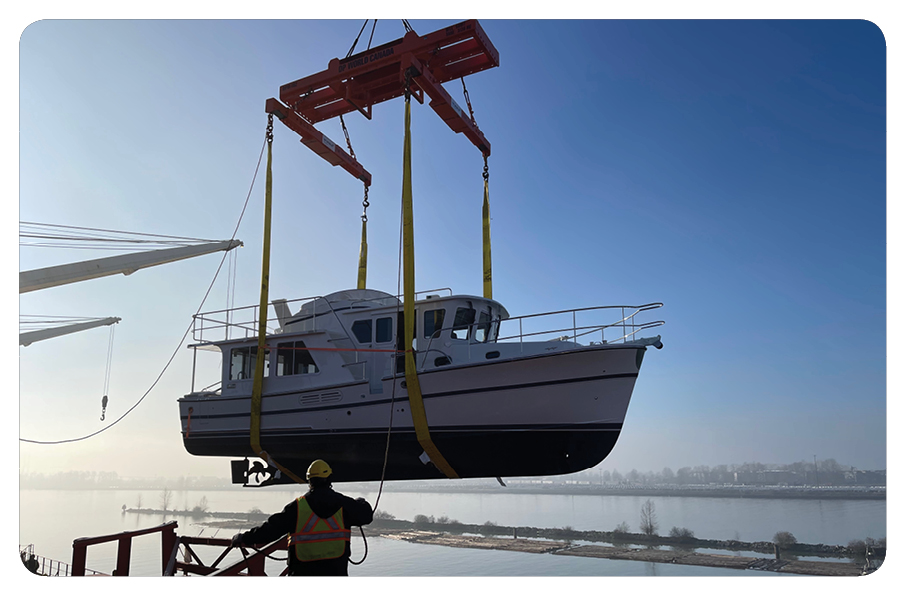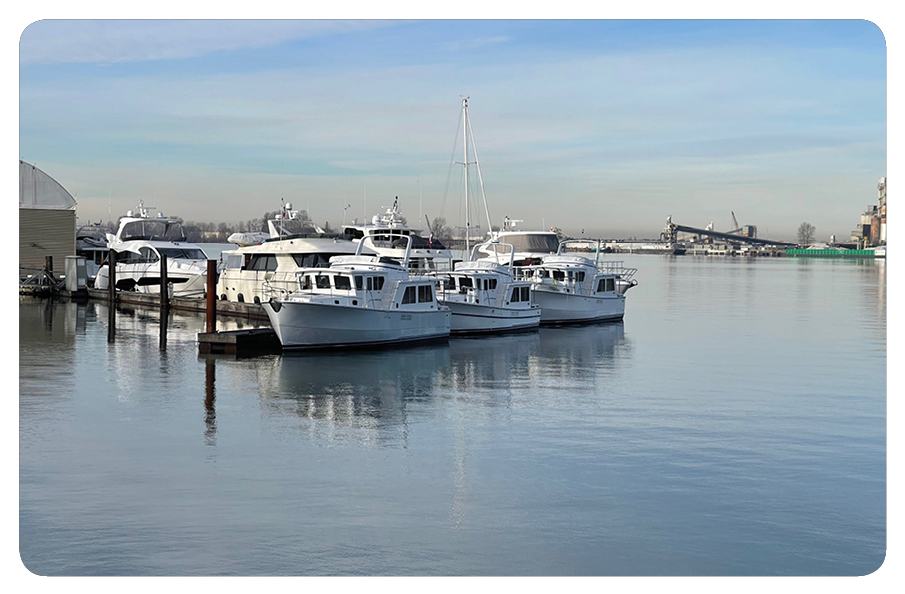 After a foggy discharge from the cargo ship in Surrey the three boats were moored overnight at the Westbay Sonship yard on the Fraser River, and then prepared to get underway. The following day this small fleet began the journey to Seattle's Lake Union for commissioning.
Making Good Time in Calm Seas
Though the offload and transit days were busy, there was the reward of beautiful views on the trip down to Seattle. The crews were blessed with good weather and calm seas for the 120 NM run, and the boats were safely tied up at the Seattle docks just two days after unloading from the cargo ship.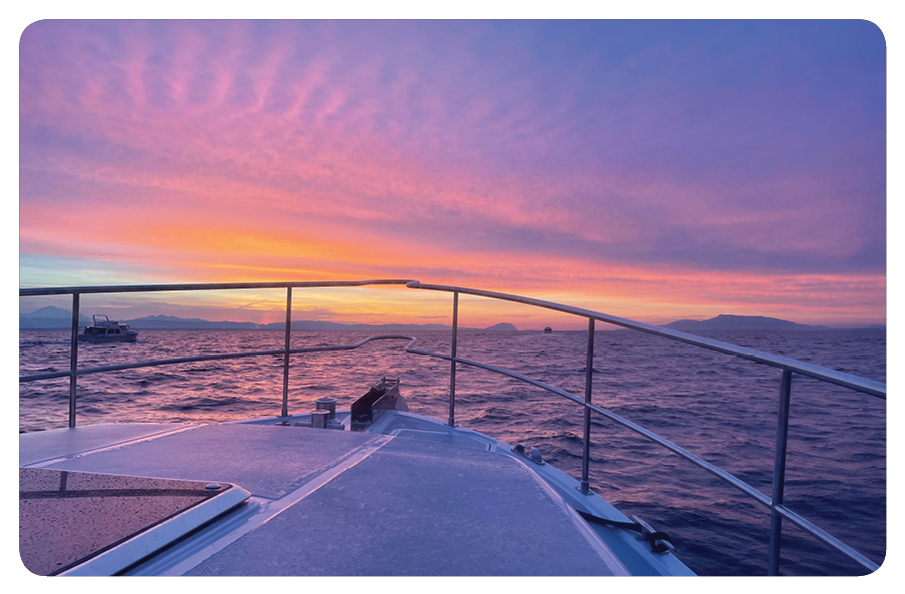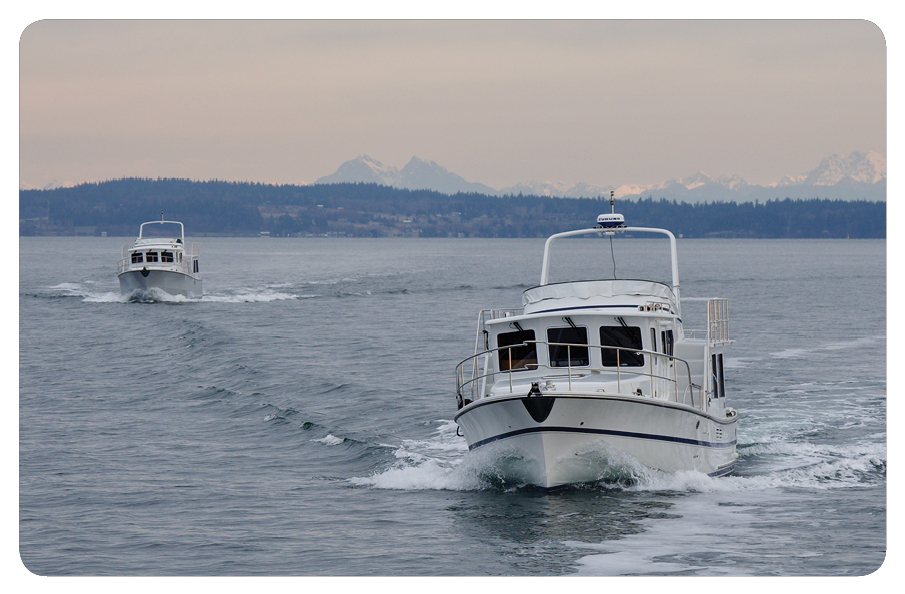 The transit proved a good shakedown for the new boats, and excellent training and familiarization for the new boat owners who joined the cruise. The trip once again proved the readiness of Helmsman Trawlers® from the very beginning.
Quality In Every Way
When the electronics installation and commissioning processes are completed the boats will be captained by Helmsman Trawlers® personnel (one at a time this time!) — back north to be delivered to their Canadian owners. As seen with this inventive offload, Helmsman Trawlers®' commitment to quality doesn't stop with building boats but extends to all aspects of their business – including customer service and even the vessel delivery process.
~~~~~