WHAT SETS HELMSMAN TRAWLERS APART?
We believe Helmsman Trawlers® are the finest trawler yachts available for sale - at any price. Our objective is to build rugged, safe, and reliable vessels that maximize time and comfort on the water, and minimize maintenance. Over the years Helmsman Trawlers® has earned recognition as a proven brand due to our finely crafted yachts. Working closely with our dedicated yard we improve with each and every boat built, and we collaborate with our customers and incorporate their customizations and preferences in the boat of their dreams. We invite you to learn more about our fine yachts through our website and
articles
, and encourage you to contact us with any questions.
Helmsman Trawlers low-rise pilothouse and sedan layouts provide visibility astern from the helm while reducing windage and rolling when compared to other vessels. Our boats are equipped with a full keel, large rudder, bow-thruster, and stern-thruster as standard equipment. These characteristics make our boats easy to operate. Systems and on-the-water training are included with every delivery, and Helmsman Trawlers are backed with a 12-month general warranty and a 36-month hull and deck warranty.
FROM THE KEEL UP
Videos that provide in-depth details on the construction methods, design, and features of Helmsman Trawlers.
PERFORMANCE | COMPARISONS
STANDARDS & OPTIONS | CONSTRUCTION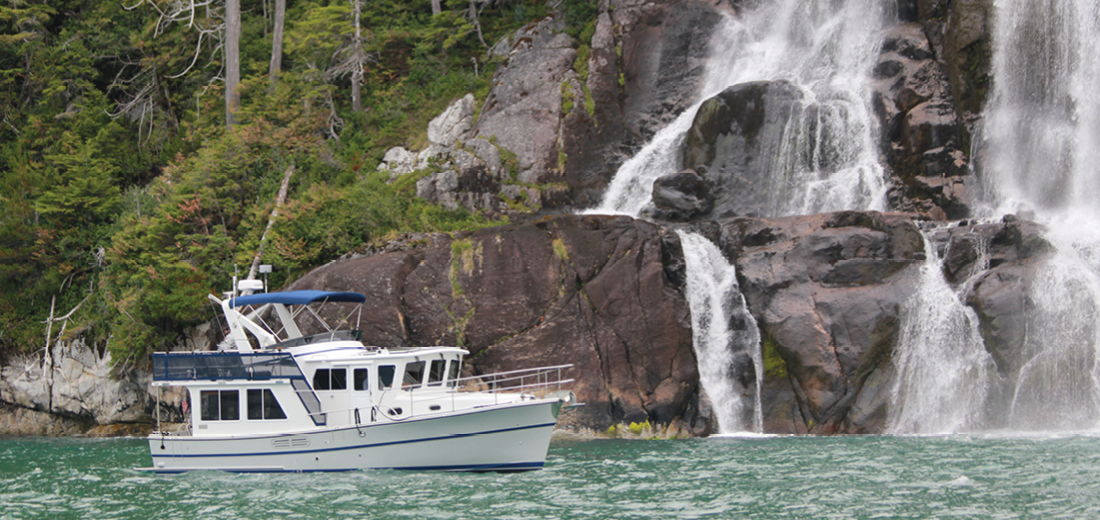 HULL CHARACTERISTICS & PERFORMANCE
The Helmsman Trawlers 37, 38E, and 43E feature semi-displacement hull design with soft chines, deep forefoot, broad sections aft for form stability, and a full keel. This means that are boats can cruise efficiently at displacement speeds, but can run at higher speeds if desired. The stainless steel skeg helps protects the propeller from unintentional groundings and the full keel and deep, nearly vertical forefoot provides for good stability and tracking.
HELMSMAN TRAWLERS MODEL COMPARISON


STANDARD EQUIPMENT & OPTIONS

Helmsman Trawlers feature the highest quality components, standard - including Cummins common-rail diesel engines, SidePower bow & stern thrusters, Webasto heating and cooling, Dometic toilets, Torrid water heaters, Blue Sea electrical components, Magnum inverter/chargers, NorthStar AGM batteries, Pompanette windows, and Quick LED lighting. Options are numerous and include SeaKeeper stabilization, Onan or Northern Lights generators, washer/dryer installation, a variety of davit options, as well as a nearly infinite potential for custom modifications.
CONSTRUCTION

Expert joinery and woodwork define the interior of Helmsman Trawlers. Interior decks are constructed with multiple layers of sound attenuating elements to reduce engine noise, and are topped with hand-laid teak and holly strips finished with at least 7 hand applied two-part polyurethane varnish for long lasting beauty. Built to be robust, our hulls are constructed of solid hand-laid fiberglass laminate with an interlocking grid of frames and stringers for structural stiffness. Superstructures are cored and vacuum infused for an extremely strong but lightweight structure.


"I can't say enough good things about the vessel! You guys really build a beautiful boat with expensive equipment everywhere I look."
John Freiburg
2019 Helmsman Trawlers 43 Pilothouse

"At every moorage we have been approached by boaters who want to see our 37. It gets rave reviews for its spaciousness, craftsmanship, and design. Most think it is longer than 37 feet and are surprised when they find out it isn't at least 42."

John and Ellen Hough
2019 Helmsman Trawlers 37 Sedan
"She is well designed, well built, spacious and extremely comfortable....As we stepped on board for the first time, we saw how well finished she was, from the topsides to the interior and below decks. We've already had our maiden cruise and can say emphatically that she performs extremely well in every respect."

Robert and Gail Chanpong
2020 Helmsman Trawlers 38E Pilothouse